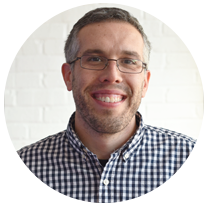 David Rasch
CTO
"Everything's a tradeoff, make it work."
David leads the Technology teams at 3 Birds including Data Analytics, Development, and DevOps. His teams work to build new things, and keep the things we have working. David's background includes 8 years at iContact started with a few people in the hallway and grew to over 300 people and billions of emails sent each month. Over the eight years he helped to grow the technology team from himself to over 80 people as both CTO and Chief Architect. During his subsequent 5 years at ReverbNation he leveled up their Agile practices and improved the quality of their products by over 80%.
Books we'd find on your bedside table: 5 Dysfunctions of a Team, Harry Potter and the Prisoner of Azkaban.
For non-readers, songs we'd find on your playlist: George Winston, Mannheim Steamroller, Bon Jovi.
Song(s) you play to get pumped up: Whatever the algorithm picks.
What would your last meal be? Spaghetti with Pesto.
6 word memoir: Everything's a tradeoff, make it work.
My little known talent is: Finding things.
Something you might be surprised to learn about me is: I don't like Star Wars nor Star Trek.
When I'm not at 3 Birds, I like to: Stay home with my wife/best-friend and my three kids.

Let's Talk!
Reach out to us with the form below and we'll put you in touch with the best person to answer your questions. Be sure to include information about what you're looking for in your digital marketing partner, along with any other relevant details.
We look forward to starting the conversation.
×