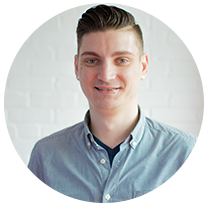 Evan Chaisson
VP & GM, Digital Evaluation Division
"It's not double denim. It's chambray."
Evan heads up the Digital Evaluation Division as the Vice President & General Manager. He combines an early background in retail sales with a marketing degree and an early-adopter attitude. After managing a number of high-profile affiliate marketing programs for clients including Soccer.com, Jelly Belly, and iContact, Evan joined 3 Birds Marketing in 2011 seeking a more direct impact on the day-to-day digital marketing strategy of his clients. During his time on the 3 Birds account services team, Evan had the privilege of working with clients such as Asbury Automotive Group, Rusnak Auto Group, and Scion as the Director of Account Strategy. He now applies the principles he learned in account services to help dealers maximize their digital presence through his leadership of the Digital Evaluation team.
Books we'd find on your bedside table: Entremanureship by Joe Schmidt & Tom Lotrecchiano, Start Something That Matters by Blake Mycoskie, The Screwtape Letters by C.S. Lewis, Ready Player One by Ernest Cline
For non-readers, songs we'd find on your playlist: I have a lot of playlists… Probably something by Johnny Cash, Twenty One Pilots, The 1975 and Hillsong United.
Song(s) you play to get pumped up: Infinity Guitars by Sleigh Bells, Godspeed by Anberlin, I'm Down by The Almost
What would your last meal be? A tapas plate of meats and cheeses. Something light, because if I know it's my last meal, I've got better things to do than eat.
6 word memoir: It's not double denim. It's chambray.
My little known talent is: Mimicry. Show me a party idea on Pinterest and I can recreate it. YouTube video of a car repair? I'm basically a mechanic.
Something you might be surprised to learn about me is: I grew up raising tobacco on my family's farm. "Supplying nicotine habits: 1988-2002"
When I'm not at 3 Birds, I like to: Eat sushi with my wife, hunt monsters with my son, and have dance parties with my daughter. If there's time left, I'm usually taking on some home improvement/repair project. Also, sleeping.

Let's Talk!
Reach out to us with the form below and we'll put you in touch with the best person to answer your questions. Be sure to include information about what you're looking for in your digital marketing partner, along with any other relevant details.
We look forward to starting the conversation.
×