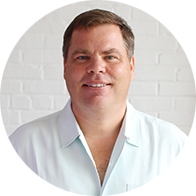 Layton Judd
President & Co-Founder
"Change is a process, takes time."
Now a seasoned businessman, Layton Judd was bitten by the entrepreneurship bug at a young age. He spent the beginning of his career working in various areas of the hospitality industry, including owning and operating his own chain of juice bars before there was a Jamba Juice on every corner. But he truly hit his stride after moving into B2B sales and the high-tech industry, where he went on to co-found izmocars. In the process of nurturing the growth of izmocars, Layton spent nearly a decade forming meaningful relationships with some of the most progressive dealership owners, general managers, and Internet directors in the industry. During that time, he developed a passion for the automotive industry and a deep understanding of the unique business challenges faced by automobile dealers. He also identified a need to bridge the gap between products-oriented third party vendors and services-oriented advertising and marketing agencies--and that's where 3 Birds Marketing came in. He now runs 3 Birds with the same straight-shooting, tell-it-like-it-is approach, grounded in an uncompromising commitment to customer service, that first earned him the respect, and in some instances the disdain, of his peers in the automotive world and here at 3 Birds.
Books we'd find on your bedside table: At the moment, I have two books about business that are propping up my alarm clock that seems to not be working. I mainly watch videos on YouTube.
For non-readers, songs we'd find on your playlist: A variety; Avett Brothers, Grateful Dead, Tiesto, Pittbull, Mumford and Sons and a few more.
Song(s) you play to get pumped up: My go-to song that always gets me feeling better is Franklin's Tower by the Dead.
What would your last meal be? I would say that I would like to eat my own BBQ because of the process of making and hanging out.
6 word memoir: Change is a process & takes time.
My little known talent is: I can ride a unicycle and juggle (not at the same time).
Something you might be surprised to learn about me is: I am really low key outside of work...
When I'm not at 3 Birds, I like to: Float on anything on a lake.

Let's Talk!
Reach out to us with the form below and we'll put you in touch with the best person to answer your questions. Be sure to include information about what you're looking for in your digital marketing partner, along with any other relevant details.
We look forward to starting the conversation.
×