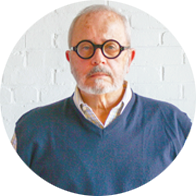 Len Wohadlo
CFO & Co-Founder
"Change is constant, enjoy the ride"
Len Wohadlo co-founded 3 Birds Marketing with Kristen Judd and Layton Judd in late 2009. With a BS in Chemical Engineering from Notre Dame and advanced management programs conducted by Rensselear and Columbia, Len's career has taken him from engineering firms including Stone and Webster and The Lummus Company to major international financial institutions. As an officer at Combustion Engineering and as founder and CEO of the National Power Group, Len was responsible for developing and financing power and industrial projects worth over US$ 3 billion. Len caught the automotive bug as a co-founder of izmocars with Layton Judd and has never looked back. Len lives in Chapel Hill, North Carolina with his wife, Margot, a clinical psychologist.
Books we'd find on your bedside table: Clementine, a biography of Clementine Churchill; The Door, by Magda Szabo; Hitch 22, an autobiography of Christopher Hitchens
For non-readers, songs we'd find on your playlist:  All songs by the Rolling Stones, The Doors, Blondie, Bob Dylan (on electric guitar) and Eric Clapton
Song(s) you play to get pumped up:  Jumping Jack Flash
What would your last meal be? Dinner at Nobu
6 word memoir: Change is constant, enjoy the ride!
My little known talent is: An ability to play a multiplicity of musical instruments equally badly
Something you might be surprised to learn about me is:  I have done business in or visited forty-six countries
When I'm not at 3 Birds, I like to:Read (a lot), eat out at the many excellent restaurants in the area, spend time with my three grandchildren and, lately, work out at the gym.

Let's Talk!
Reach out to us with the form below and we'll put you in touch with the best person to answer your questions. Be sure to include information about what you're looking for in your digital marketing partner, along with any other relevant details.
We look forward to starting the conversation.
×