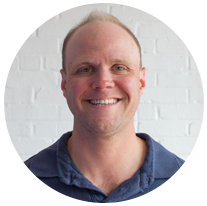 Rob Call
VP of Product & Operations
"Work for your team not yourself."
Rob leads the Product Management and Operations side of the house.  For more than a decade, he's combined his deep technical experience and naturally collaborative personality to help teams figure out what to build, for whom, and understand why.  He's organized teams and built products for companies large and small, including iContact, Ticketmaster, and ReverbNation.
Books we'd find on your bedside table: Traction, Cosmic Jackpot.
For non-readers, songs we'd find on your playlist: Anything by The Beach Boys, Alice in Chains.
Song(s) you play to get pumped up: Anything by Outkast, Possum Kingdom.
What would your last meal be? Ribeye steak, collard greens, mashed potatoes.
6 word memoir: Work for your team not yourself.
My little known talent is: Singing.
Something you might be surprised to learn about me is: I can still dunk a basketball.
When I'm not at 3 Birds, I like to: Go on adventures with my wife and spoil our ridiculously handsome dog, Bromer.

Let's Talk!
Reach out to us with the form below and we'll put you in touch with the best person to answer your questions. Be sure to include information about what you're looking for in your digital marketing partner, along with any other relevant details.
We look forward to starting the conversation.
×