Turn interest into purchase intent & leads by serving up the right offers, vehicles, and information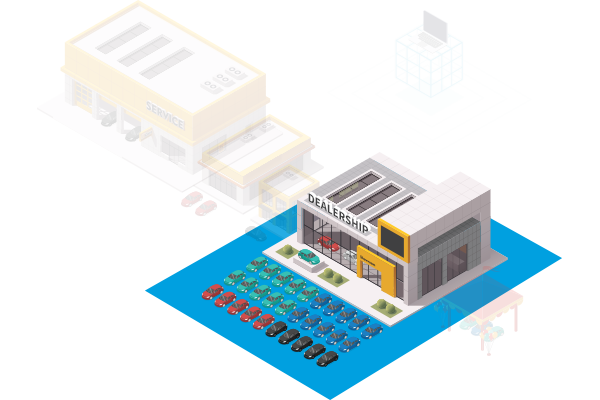 Smart Sales Accelerator
Revive Aging Leads | Increase Incremental Sales | Turn Inventory Faster | Acquire Quality Pre-Owned Inventory
PUT YOUR MONEY WHERE THE METRICS ARE
2x
Live inventory in the SSA gets twice the interaction as other content
19
Number of days faster that recipients who engage with live inventory purchase

The 3 Birds Smart Sales Accelerator (SSA) is a dynamic, data-driven automated marketing solution designed to advance dealership vehicle sales objectives. We use our data mining and modeling capabilities to identify contacts in the dealer's database who are in-market, likely to be in-market, or have the potential to be brought back into market if presented with appropriate options, incentives, and offers. The SSA consists of a series of messages sent to the identified targets that gauge interest, develop additional intent data, and dictate the increasingly relevant follow-up communications that lead the customer down the path to purchase.
The SSA messaging series includes the following email communications with a supporting web presence: the Temperature Gauge, national manufacturer incentives, and offers model-specific follow-up messages with live dealership inventory, promotion of aging CPO/used inventory with live dealership inventory, and targeted trade-in solicitations.
When you bundle solutions together we can offer even more attractive pricing. Learn more about our other digital marketing and software solutions for automotive dealerships below.
Want to Know More?
Our feature-rich solutions create a marketing ecosystem, reduce friction, and provide a brand-new, actionable view of your marketing and operational data.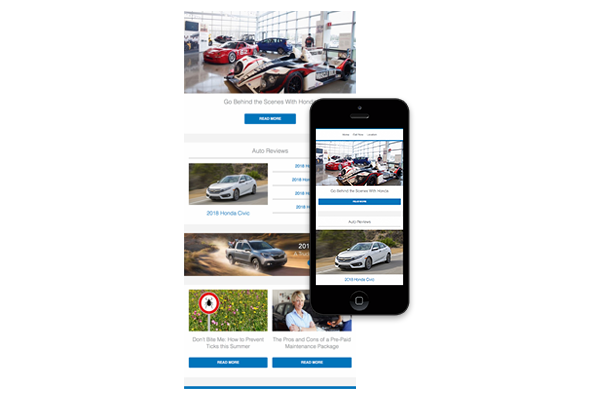 Temperature Gauge Communication & Engagement Website
A mobile-ready, responsive automotive dealer email and engagement website is the perfect way to stay in front of customers from the time they purchase, throughout their vehicle's service lifecycle, and leading up to the moment they're ready to buy again.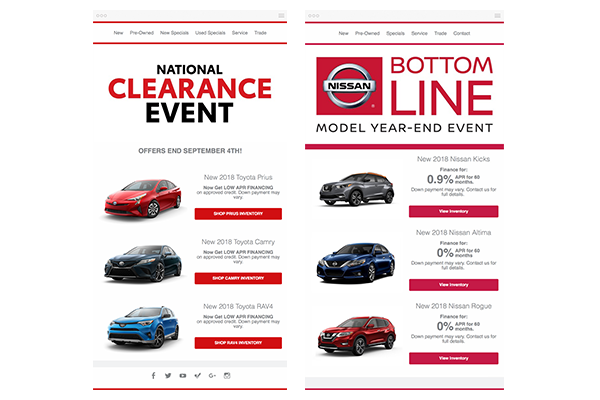 New Car Incentives & Specials
The best manufacturer incentives, offers and sales promotions are sent to the people our mining and modeling reveal to be most interested.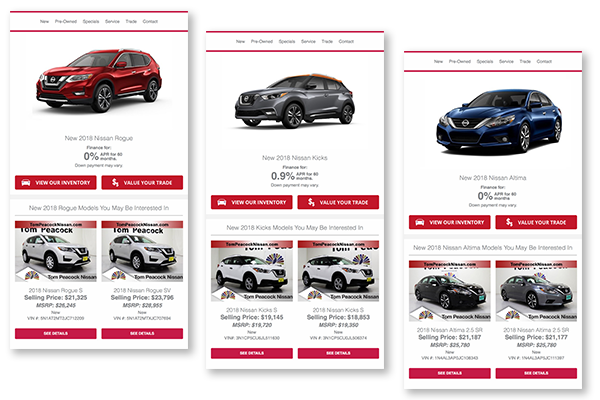 Inventory-Based Model-Specific Follow-Ups
People demonstrating interest and intent in specific models are led down the path to purchase with follow-up communications that showcase the dealership's live inventory of that model.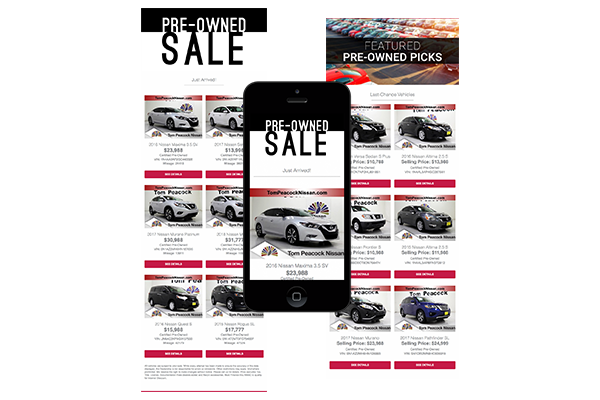 Aging & Newly Arrived CPO/Used Inventory
Promote newly arrived and aging CPO/used inventory with these messaging streams that target the best candidates for pre-owned vehicles.
These are just some of our select features. Click the button below to view our full feature set.
Schedule a Strategy Session!
Use the form below to reach out to us, and we'll put you in touch with the perfect person to schedule a strategy session. Be sure to include the best time to contact you (morning or afternoon), as well as any information about what you need from your digital marketing partner.
We look forward to starting the conversation.