Honda / Acura Social Media & Reputation Packages
Get More Reviews | Monitor & Manage Online Reputation | Consistent Branded Content
A Marketing Partner Designed For You.
3 Birds is a nationally recognized solutions, consulting, and analytics provider founded on a simple belief: dealerships and OEMs deserve a better digital marketing partner. For today's consumers, how a dealership portrays itself online, on social media platforms and review sites, can make the difference between ruling them out or purchasing a vehicle from them. The 3 Birds' Honda / Acura Social Media & Reputation Packages were designed to help dealerships maintain the positive online presence consumers expect.
Package #1: Basic Package
This starter package provides full access to our intuitive technology platform for social media and reputation management. The Basic Package makes it easy for anyone to manage content posting and monitoring across multiple channels, and offers robust tracking and analytics to guide future marketing messages.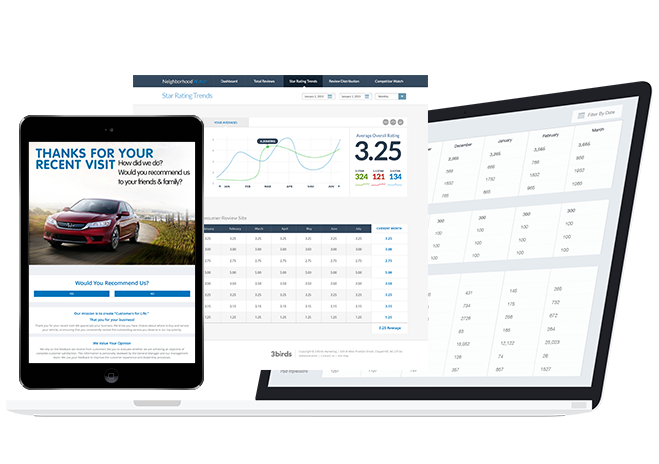 $279/Month Per Dealership (No Set-Up Fee)
90-day Initial/Minimum Term Followed By 30 Day Auto Renewals
---
New Content Added Weekly
Engage your online audiences with access to our exclusive library of thousands of social media content assets. Fresh Honda / Acura content is added weekly to keep your dealership at the forefront of the conversation.
Monitor the Competitive Landscape
Monitor the top 10 online review sites with Neighborhood Watch and manage reputation from within our platform. Plus, use Competitor Watch to track the online reputation of up to five competitive brand dealerships in your DMA to help you maintain a competitive advantage.
Plus Resources for Additional Growth
Enjoy full access to 3 Birds Academy, an online portal with training materials and guides to help you make the most of every social channel and review site. Set goals and review performance each month during a monthly coaching call with your dedicated 3 Birds Performance Manager.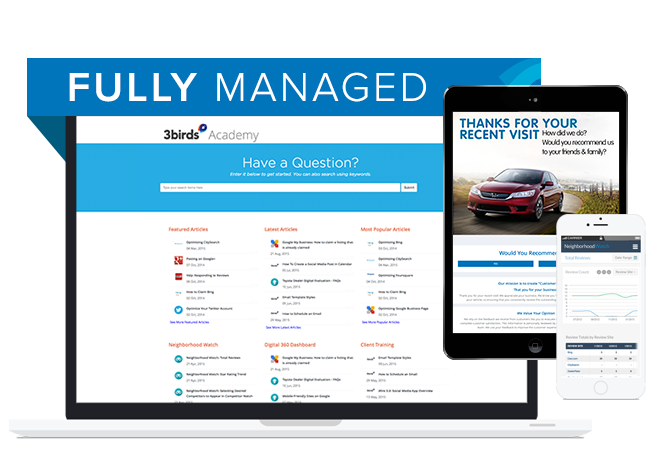 Package #2: Fully Managed
Automobile dealerships are a fast-paced environment. With everything else going on at your dealership, it can be hard to dedicate the time to maintaining and strengthening your online presence. That's what we're here for. This package includes all of the features of the Honda / Acura Basic Package, plus dedicated account management, dealership-specific content, and organic review-building across all of the most important review sites.
Pricing Furnished Upon Request
---
Claiming & Optimizing Made Easy
Incorrect info, negative reviews, and sloppy images are red flags for car-buyers during the research process and can hurt your SEO. We'll claim and optimize major social and review sites to help you engage and attract customers at this critical stage.
Organic, Balanced Review-Building
88 percent of customers trust an online review as much as a personal recommendation.* That's why we focus on all of the major review sites—not just one or two—to increase star ratings and positive reviews everywhere that your customers are searching.
*Search Engine Land, Local Consumer Review Survey 2014
Win Back Customer Trust
Dedicated Performance Managers craft responses to consumer reviews and address new concerns, keeping complaints offline and winning back previous defectors in the process.
Package #3: Premium
Take control of the online conversation like never before. In addition to all the features of the Fully Managed package, our Premium offering includes a digital newsletter and engagement site specific to your dealership. Utilize this powerful tool to gain new customer insights, build the value of your database, and keep customers coming back.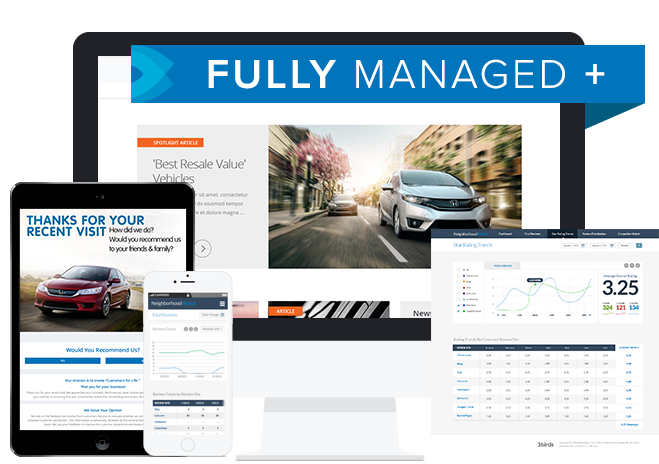 Pricing Furnished Upon Request
---
Fully Responsive Messaging
More customers are reading emails on mobile than ever before. Our email newsletters and hosted engagement websites are both built on fully responsive technology with a mobile-first design aesthetic.
Leverage Newsletter Content Across Social Channels
Increase your social engagement and audiences by sharing dedicated newsletter content across your social channels. We'll help you extend the lifetime of your new content pieces and revive older pieces for added value.
See Your Customers In a Whole New Way
Every click tells a story. 3 Birds' robust reporting dashboard includes customizable reporting and analytics so you can dig deeper into your customers' behavior, interests, and demographics—and tailor your future marketing to capitalize on these opportunities.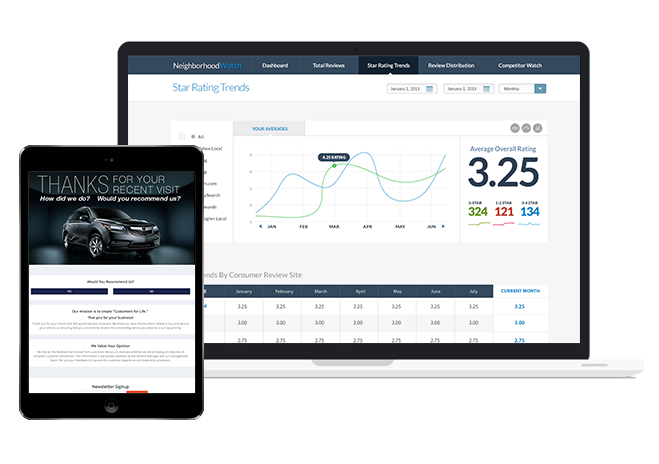 Package #4: Reputation Management
What your customers are saying online matters, but the growing number of consumer and automotive review sites can make management a nightmare for your dealership. Your dedicated Performance Manager will craft responses to consumer reviews and address new concerns, keeping complaints offline and winning back previous defectors in the process. Review-building streams from 3 Birds focus on the sites that matter most to your auto dealership, helping you gain new positive reviews while addressing customer complaints before they end up online.
Additional Add-Ons
You can customize the packages above with these add-ons below to enhance your social media and reputation strategies.
Add-On #1: Social Ads
OCCASIONAL OR RECURRING. Social advertising can be added to any package or purchased as a stand-alone item. We charge a management fee of 25% of the social advertising spend for occasional social ads or 20% of the social advertising spend for ongoing social ads. We also require a minimum social advertising spend for ongoing social ads.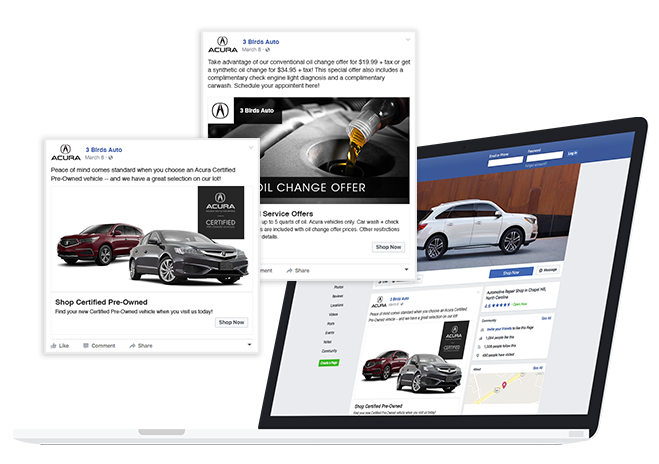 Schedule a Strategy Session!
Use the form below to reach out to us, and we'll put you in touch with the perfect person to schedule a strategy session. Be sure to include the best time to contact you (morning or afternoon), as well as any information about what you need from your digital marketing partner.
We look forward to starting the conversation.